A quick disclaimer:
Yes, this is Australian music. No, this is not entirely representative of Australian music, nor is all of it "quality".
However
, this is Australian music by artists that I enjoy and thought I would make a mix of. All the songs have been obtained via youtube, so some may not sound amazing. If anything, it may encourage people to purchase the songs via iTunes, which can only be a good thing.
Some of the songs were performed by Australians, but actually recorded and produced overseas (Lenka and Jet, I think). I included
Thunderclap
by Eskimo Joe as the only other way you could get this song was through the Australian version of the New Moon soundtrack, so many people may not have heard it already.
Anyway, enjoy. ♥
Young and Free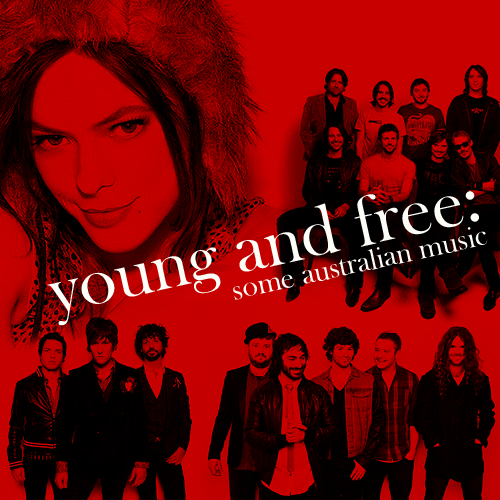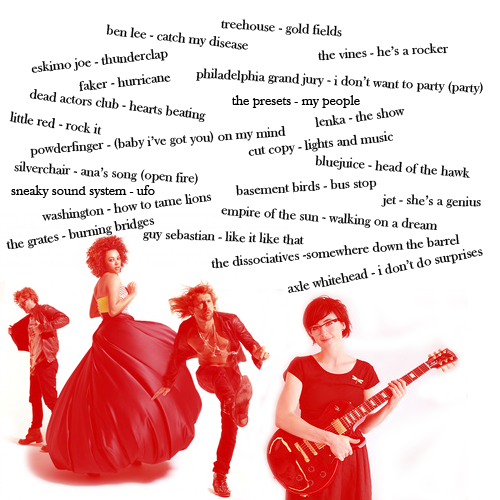 I Don't Do Surprises - Axle Whitehead
I'm wasting time
Fall behind, in my mind
Cause I'm fighting in a losing war
Tiny little fault lines
Cracking inside my soul
Bus Stop - Basement Birds
Called you again, messages ten
Sitting at the bus stop sucking on a fisherman's friend
(Always find my way back to ya)
(Always find my way back to ya)
I'm just trying to find my way to you
Catch my Disease - Ben Lee
They play Good Charlotte on the radio
And that's the way I like it
They play Sleepy Jackson on the radio
And that's the way I like it
And that's the way I like it
I hear Beyonce on the radio
And that's the way I like it
'Cause that's the way I like it
They don't play me on the radio
But that's the way I like it
Head of the Hawk - Bluejuice
I've been a little distant lately can we be discrete? (I get a little)
I feel myself lose grip on the wheel and you roll right over me
I get a little
Dip dip, dip dip, dip in my mood.
Dip dip, dip dip, dip in my mood.
Lights and Music - Cut Copy
This is why we won't delay for your birthday
The secrets that we held that day will be kept straight
All your friends have gone away so let's celebrate
You're holding hope open for the one making you wait
Hearts Beating - Dead Actors Club
Don't stop beating your heart
You're so dreamy
When you move in circles you shake
My heart silly
Somewhere Down the Barrel - The Dissociatives
Screaming limitations
Fall silent on New York corners
A terrorist's a prisoner
And a tourist a thief
When paintings seem like bargains
But they're nothing but wallpaper
I'm plagued by small town fascists
Like a rash on my skin
Walking on a Dream - Empire of the Sun
Thought I'd never see
The love you found in me
Now it's changing all the time
Living in a rhythm where the minutes working overtime
Thunderclap - Eskimo Joe
In another life
I lived before
I broke so many things
With these two clumsy hands
But now I'm steady as a rock
And hold your hand in mine.
Hurricane - Faker
I've got bad news
I've never been included
I try too hard
Still I somehow feel deluded
Burn Bridges - The Grates
If love was an ocean would you have a swim,
Would you have a sail?
My man's an ocean and I'm a whale.
If god was a gamble would you make a bet,
Would you make a bet?
Well god is a gamble... does it make you sweat?
Like it Like That - Guy Sebastian
So should I shut my mouth,
And should I hide my heart?
Or should I let it out into the light,
That you and him should be apart?
Is he hangin on to every word you speak,
Does he rub your back and play with your hair until you fall asleep?
She's a Genius - Jet
If what you know is who you are
Then she's everything
You don't need an education
To know what class that you're in
They said 'Hey there girl tell me what do you do?'
She said 'Nothing, but I'm damn sure it's more than you!'
The Show - Lenka
The sun is hot, in the sky
Just like a giant spotlight.
The people follow a sign and syncronize in time.
It's a joke, nobody knows
They got a ticket to the show
Rock It - Little Red
Rock it to the break of day
Don't stop rocking now, no way
If everybody feels the same
This is why we play these games
Rock it to the early dawn
Soon those good times will be gone
Everything I ever had, if I could have
One night like that
I Don't Wanna Party (Party) - Philadelphia Grand Jury
Hey now, the truth if you want it - I'm a really lonely guy
Jesus in my kitchen and the devil on my mind
I use the same three tricks every single time
But if I told you all my secrets then my secrets won't be mine
(Baby I've Got You) On My Mind - Powderfinger
So if I had this all my way
Honey you won't ever know
I'd be there to every night and day,
Promise you I'll never go
I won't hold back from you this time
My People - The Presets
Soldiers on the water front
They wanna ship me far away
I'll find my way tonight so i can find my way to you
I'm here with all of my people
Locked up with all of my people
So let me hear you scream if you're with me
Ana's Song (Open Fire) - Silverchair
Please die Ana
For as long as you're here we're not
You make the sound of laughter
And sharpened nails seem softer
And I need you now somehow
And I need you now somehow
UFO - Sneaky Sound System
Can you see the bright light?
Shining, I dont know
Is it a reflection of anyone?
The big glow
And tell me this is all good, and you say,
I don't know
I'm very very far from home
He's a Rocker - The Vines
All he ever playin' is that rock n roll music
Rock n roll music, yeah
All he ever wanted was a reason to do it
Reason to do it, yeah
How to Tame Lions - Washington
How do you tame a lion?
It was a savvy answer.
The repartee and argument.
You are like a dancer.
You can takethe east side
And I will take the west.
(You know, I liked it better
before all of the scars on your chest.)
Gold Fields - Treehouse
That's okay
Just turn the sound up
And away we go
Get the mix here at mediafire.